December Best Places to Travel – What's the Best Country to Visit in December?
If you're looking for the best places to visit December, you might be wondering where to go. Some of the top options are the Canary Islands, France, Egypt, and New Zealand. These locations all have something unique to offer, so be sure to read up on them before making your final decision.
Canary Islands
During December, the Canary Islands are ideal for tourists who want to enjoy warm temperatures and stunning landscapes. The island is home to a variety of activities, including water sports, hiking, and sightseeing. Its small population and lack of tourists make it a great destination for those who want to enjoy low-season activities without sacrificing high-quality nightlife.
New Zealand
If you are considering a trip to New Zealand in December, there are several reasons for doing so. First of all, December is a quieter time of year than the summer, which means you can enjoy the scenery without crowds. And second, December brings longer, sunny days. However, you should prepare yourself for afternoon showers. This is a maritime country, so you'll need to be extra cautious of the UV levels. You'll also want to pack a swimsuit.
France
Despite its short days and rainy weather, December is a great time to visit France. It is also a good time to enjoy Christmas markets and festive lights. You can also enjoy winter sports and indoor activities. You may want to avoid larger cities and busy tourist areas during this time. However, you may find that smaller towns are less busy during December.
Egypt
Egypt is a popular tourist destination during December. The winter months bring cooler temperatures and the prices tend to be less expensive than during the summer months. This is the perfect time to visit the Red Sea or one of the country's many beaches. You can also spend time exploring ancient Egyptian sites, including the Pyramids of Giza and the Valley of the Kings. These iconic sites are also popular destinations during December but be warned that these sites are often packed with other holidaymakers and the price of hotels can be high.
Switzerland
If you want to enjoy the best of Switzerland's winter sports, December is the month to go. It's also the time when prices increase in mountain resorts and lodges fill up fast. The weather is usually cold, cloudy, and wet, making it the perfect time to enjoy a winter vacation in Switzerland.
New Orleans
While many people think of Mardi Gras in New Orleans as a time to party and enjoy the festivities, December in New Orleans is also a good time to visit. The city is festively decorated and the weather is still pleasant. In addition, it's less crowded, making the country's largest city a more affordable destination.
Best Places to Visit in December in the USA
Winter getaways
If you're looking for a romantic winter retreat, a solo retreat, or a family getaway, the month of December in the USA offers a number of excellent options. While the winter months can be chilly in many parts of the country, a trip to the south in December can offer sunny weather and over-saturated colors.
One of the best US winter getaways is Hawaii. The island welcomes winter visitors with palm trees and warm weather. Winter in Hawaii is mild but not too cold – it's typically in the mid-seventies. For those who get the winter blues early, Kauai in Hawaii offers the perfect cure. The area receives only 15 days of rain in December, and temperatures stay in the sixties throughout the month.
Christmas markets
Christmas markets are a fun way to get into the holiday spirit, and many are also great place to buy unique gifts. Some are modeled after authentic German Christkindlmarkets and feature iconic images such as the Christkindl Angel. Others celebrate other European traditions or embrace local traditions and customs.
New York City has several great Christmas markets. The Union Square Holiday Market has over 150 vendors, as well as food vendors and kids' activities. There's also a huge selection of holiday gifts and crafts for sale. Christmas markets in Bethlehem is the best place to travel December if you're looking for a true European Christmas market experience. The city has an open-air Christmas City Village and an indoor Christkindlmarkt.
Ski resorts
Ski resorts in the United States are great places for skiers who are looking for varied terrain, powdery snow, and a vibrant apres-ski culture. Some of the most popular ski resorts in the United States are located in the mountains of Colorado, Utah, and Vermont. You'll find everything from easy bunny slopes to challenging runs at these resorts. In addition, there are plenty of things to do off the slopes.
Targhee Mountain Resort in Montana is renowned for its consistent snowfall and moderately-pitched terrain. It has remained open well into December since the resort opened for the season in 1988. In the past 26 years, there has only been one year that had less than 110 inches of snowfall. This means that Targhee's reliability in December is unmatched by any other ski area in the country. Most of the locals at this resort come from nearby Idaho Falls, but you can also stay in Jackson or Summit County.
Tropical getaways
If you want a tropical best vacation December, you should consider visiting the Florida Keys. Located on the southeastern coast of Florida, the Keys are the southernmost point of the United States. December marks the beginning of the peak tourism season in the area, so hotel rates will be higher than usual. However, you can save some money by booking a vacation rental instead of a hotel.
If you'd prefer a warmer destination, the Yucatan Peninsula in Mexico is a great choice. Here, you can explore fascinating Mayan ruins and see stunning bioluminescent bays. You can even go kayaking or paddle boarding, and take part in holiday feasts in the charming towns. This tropical area is also known for its renowned events and festivals, including the Hatillo Masks Festival, which dates back to 1823. It also hosts the island's largest carnival, La Feria.
Winter wonderland
If you love the winter season, December is the perfect time to visit Colorado. This state offers a unique combination of rustic luxury and outdoor adventures. Snowshoeing through meadows, skiing, heli-skiing, hiking, and winter horseback riding are among the many fun activities available. You can also go ice skating and ice climbing.
In North Idaho, a Winter Wonderland can be found at the Manoir d'Alene Resort. This luxury resort is nestled on Lake Coeur d'Alene. The resort is located just a short drive from two ski resorts and features luxurious accommodations, a world-class spa, and award-winning restaurants. The resort is also home to a renowned holiday light show featuring 1.5 million lights. Guests can enjoy ice skating and sledding at nearby parks.
Where is the Best Weather in December to Vacation?
As winter rolls in, it can be tempting to book a warm getaway. Instead of dealing with the cold, consider these sunny destinations. They have favorable weather for winter vacations and plenty of attractions. You'll be glad you did! Listed below are some of the best vacation spots for December. And don't forget to pack your sunglasses!
Hawaii is the ideal destination for December vacations. The waters remain warm enough for surfing and swimming throughout the month. You can also enjoy poinsettias in bloom if you choose to visit Hawaii in December. Hawaii is also the warmest US city during this time. It's the best place to travel to in December. Hawaii's December weather is perfect for outdoor activities, including hiking in the jungle and sunbathing on the beach.
Where is the best weather in December to vacation in the USA? Las Vegas offers mild temperatures throughout December. There are poolside days in the city, which are perfect for the beach. Pasadena, California, has endless summer vibes and is also a good choice for travelers. The temperatures are mild in Southern California in December, and the crowds are smaller compared to those in the summer. And the weather is still warm enough to enjoy the beach and the ocean.
Another place to visit in December is New Orleans. Its enticing tropical weather is the perfect combination of warm and cool. During the December season, the city is less crowded than during the Mardi Gras season. It's also a great time to check out the city's festive French Quarter and enjoy the Krewe of Jingle holiday festivities. The average temperature is 64 degrees Fahrenheit (18.8) and the New Orleans Christmas parade takes place on Christmas Eve.
While the weather is still cool in Arizona, it's not necessarily cold in the United States. You can still enjoy the warm weather and sunny days in San Diego. The weather in this city in December is typically mild, with highs of 68 degrees Fahrenheit/20° C. If you don't want to spend a lot of money, you can stay at an Airbnb instead. You can enjoy the local flavor of the city and the surrounding area while spending a holiday in a cozy, inexpensive place.
Where is the Best Place for a Vacation in December
If you're wondering where to holiday in December, read on to find out some of the best options for this time of year. You can enjoy snow-capped mountains, hot chocolate and European-style Christmas markets in the cities of Austria, Hungary, Italy, Poland, and Slovakia. No matter where you go, you'll be sure to find an incredible selection of holiday attractions and food. These holiday destinations are sure to satisfy the Christmas-loving traveler in you.
While most snowbirds head south for the winter, you can visit New York City in December. The city's enchanting holiday window displays are sure to delight visitors. Rockette shows and the famous Christmas tree in Rockefeller Square make the city an unforgettable holiday experience. If you're planning on going to New York in December, you should plan extra time to avoid any travel delays. But remember to plan for snow storms in advance.
Fort Lauderdale is another exciting destination in Florida. The city hosts the Winterfest Boat Parade on December 11 and the Miami City Ballet performs The Nutcracker on December 10-30. You can also attend the annual Art Basel fair and explore the city's famous outdoor shops and fine dining. You can stay at the Conrad Fort Lauderdale on the exclusive North Beach or at Kimpton Goodland on the shore.
If you're seeking a spiritual break, you can visit India during this time. Gokarna, an ancient Hindu pilgrimage town, transforms into a hippie party town in December. The palm-clad beaches are lined with foreign tourists. Gokarna is a hidden gem in the Arabian Sea. Besides its temples, Gokarna is also a place for scuba diving and yoga classes.
Spain is a popular tourist destination, but in December, it becomes even more festive and fun. There are many things to do, including the infamous Christmas markets. Madrid and Barcelona have direct flights from Mumbai and Bangalore. South Africa is another destination that should not be missed during December. There's no better time to visit the old world charm and the sun. And if you're looking for an authentic holiday, head south.
Mexico City is another fantastic destination. With pristine beaches and a dazzling heritage, this city is a dream. The temperatures range from twenty to 28 degrees Celsius. Flights to Cancun are available on airlines including Lufthansa and Air Canada. You can also catch a flight to Cancun from New Delhi. The weather is mild and pleasant, and you'll enjoy the tropical atmosphere.
If you don't want to go to the tropics, consider the Caribbean islands. There's year-round warm weather on the islands, and you can travel without a passport if you wish. Puerto Rico is also perfect for those looking to brush up on their Spanish. Vieques Island has one of the world's five bioluminescent bays. It's worth visiting for the spectacular views and vibrant culture.
If you're looking for big sunny trips, take a trip to the USA! The country's four-season climate makes it a perfect holiday destination. If you're looking for something a bit more adventurous, try the Utah mountains, which have six prime ski resorts. These ski resorts are well equipped for beginner and advanced skiers. The city is also alive with festive holiday events in December. You can even catch a horse-drawn carriage ride through Temple Square!
Where to Go in December For Sun? The Best Places to Visit in December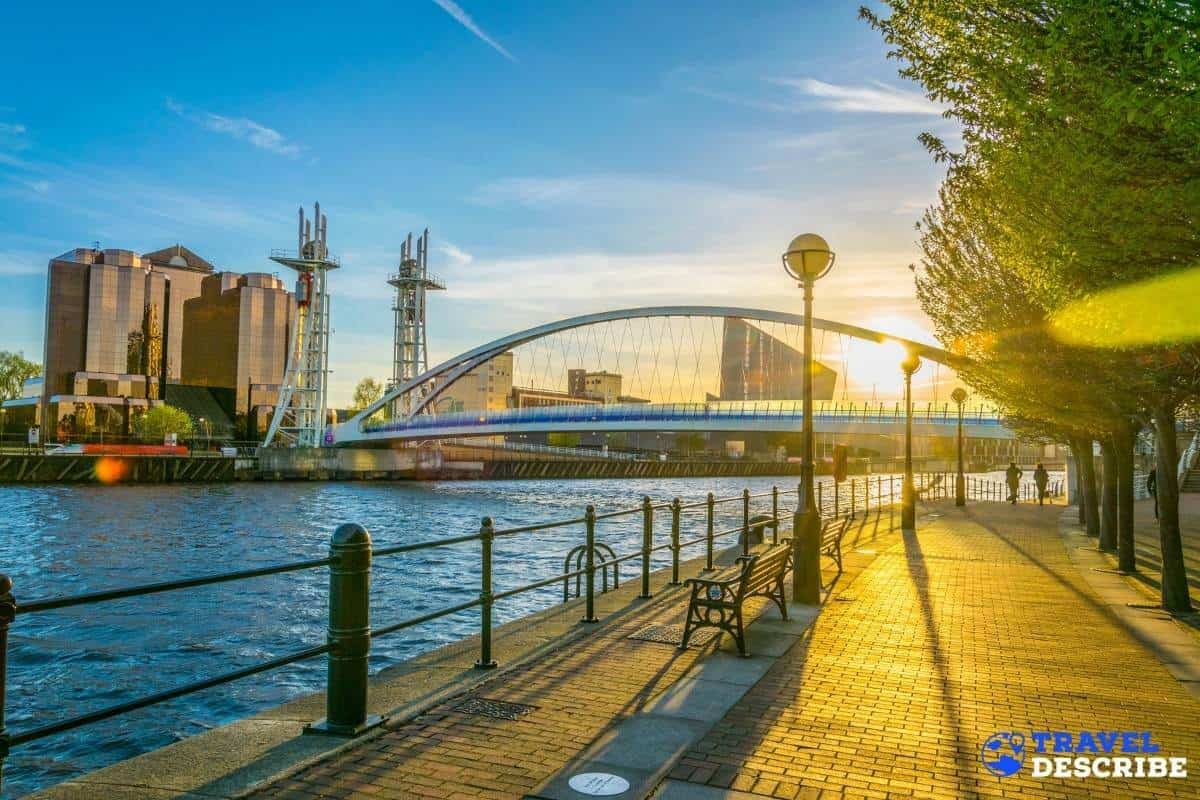 South Africa offers a wonderful combination of wildlife, wine regions, beautiful scenery, and good food. And if you want some winter sun, head to South Africa. South Africa has a pleasant climate during winter, with average temperatures ranging around 27 degrees. While it may not be the hottest place in the world, South Africa offers a warm getaway that will warm you up from the inside out. So what are you waiting for? Make your reservation today and start dreaming about your next holiday in the sun!
While temperatures in Phoenix remain cold in December, there are plenty of places in the desert that are pleasant. You can spend your days at the beach or at a pool, or even take a trip to San Diego. This city boasts 70 miles of coastline and is very affordable for a big city. However, if you want to spend the winter in the sun, consider one of these two sunny cities. It's the best time to travel in December to these cities.
Salt Lake City has many activities for people looking to spend a few days in the sun. There are also many unique shops and places to explore. This Is The Place Heritage Park allows visitors to explore life in Utah in the 1800s. Finally, the Virgin Islands is a wonderful tropical vacation destination. They are United States territories and are a wonderful choice for a family holiday. Snorkeling and historical tours are among the most popular activities here.
If you're looking for warm and sunny weather, you may want to visit Mexico, which averages 72 degrees. The beaches are free and are perfect for shell collecting, fishing, or just relaxing. The islands are part of the Padre Island National Seashore, a 70-mile-long National Park. You'll find about 380 different species of birds in the area. There are even endangered sea turtles, and you can also visit Kemp's ridley Sea Turtle Foundation. If you're looking to spend a few days at the beach, you can visit the Sealife Center, which has dolphin-watching cruises.
Florida is another good choice if you want to spend a few days in the sun. Miami, Florida is very close to Miami and can be reached in 30 minutes from there. Since the hurricane season is over, December weather is warm and sunny, with temperatures reaching 75 degrees Fahrenheit. Plus, the lack of tourists means that you'll find fewer crowds and lower prices. You can expect fewer crowds and fewer prices, so you can enjoy Florida in the winter, too.
The tropical paradises of southern California and Hawaii are also excellent choices during December. While the best palaces to visit in December in California are known for their winter weather, San Diego is warmer and rains just four days a year. Moreover, whale watching is one of the top activities in San Diego in December, with more than 20,000 gray whales passing through on their way to Mexico. You can also catch a glimpse of the whales, including the majestic ones.
Which Country is Most Beautiful in December?
While the best countries to visit in December might seem chilly, others are warm and enchanting, and many are both stunning. Whether you're looking for a tropical getaway or a historic city, the question that remains is: Which country is the most beautiful in December? Here are some options:
If you want to take in a winter festival with breathtaking views, head to Austria. Several Christmas markets offer a plethora of homemade goods and scenic views. One of the most famous of these is the Vienna City Hall, Christmas Market. This market is situated in front of the historic City Hall and is lit by candles. You can also expect plenty of Christmas cookies and choirs singing traditional Christmas carols. So, go ahead and enjoy the beauty of December!
Another winter destination is Sweden. Abisko in Lapland is a must-see for lovers. The town is surrounded by pristine mountain valleys and is a romantic winter retreat. Husky mushing and skiing are other winter sports you can enjoy. And don't miss the traditional Christmas markets, which can be found in all major cities. If you have the time, you'll never be bored in Lapland.
Among the most beautiful countries in December is Peru. The city is stunning and enchanting, and visitors can trek up the famous rainbow mountain or visit the Salar de Uyuni. The city has plenty of natural attractions and is rich in culture. Temperatures in Peru can range from a mild two-degree Celsius to a very cold seven-degree degree drop. Getting it is easy, and connecting flights from New Delhi can take you to Lima.
Where to Go in December for Sun in Europe –

Best Places to Visit in December in Europe

Winter in Europe can be cold and gloomy with biting winds and grey sludge, but the continent's southern reaches have a sunny climate. Whether you're seeking warm sun for a few days or are in search of a sunny vacation, Europe has plenty to offer this time of year. Plus, traveling during the low season will save you money and keep you away from crowds.

Sicily is another great place to go for winter sunshine. Although the island's weather isn't as warm as the others, the sub-tropical island has temperate temperatures throughout the year. This means that you can enjoy the warm weather without the crowds. It's also home to several historic monuments and Roman temples. You can enjoy the beauty of the island without the crowds. And there are no crowds in Sicily during December, either.

Greece is another great destination in the winter. In winter, temperatures rarely dip below 15degC and there are plenty of beaches to choose from. In January, temperatures can reach 21°C. So, Greece is the best place to travel in December during the winter months! The Greek islands also have a good climate. And there are a number of other winter sun destinations, like Greece and Cyprus. Cyprus also has an excellent climate and is just 4.5 hours away from the UK.

Athens is also a good choice for the European winter sun, with temperatures ranging from 12degC in October to 15degC in March. You can enjoy the warm climate in this cultural hub of Europe, but be prepared to miss the sun! Despite the cool temperatures, you can still enjoy the views of the Acropolis. If you want to get away from the crowds, Turkey is a great option for the winter sun in Europe.

Marseille is another good option for the European winter sun. It is located near the Mediterranean Sea, and its average temperature is between 13degC and 18degC. This city also has better sunshine and longer daylight hours than most European cities. There are also plenty of things to do in Marseille, including visiting the famous Cathedral of St. Paul or shopping at the Metropole Shopping Centre. And if you want to spend some money, it would be a good idea to spend a couple of nights here.

The Algarve coast in Portugal is another great destination for winter sun in Europe. Temperatures in the Algarve Coast range from 14 to 20degC and can be as warm as 63degF. This region has a fantastic surf scene and is one of the warmest places in Europe in the winter. Whether you want to chill out in the sun or take a romantic trip with your partner, this destination has it all.
Where is the Cheapest Place to Travel in December?
When you're planning a trip, where is the cheapest place to go in December in terms of airfare and accommodation costs? There are many ways to make your December trip as inexpensive as possible, but the first step is to research airfare and hotel prices. You can book a holiday well in advance. Alternatively, you can skip the busiest holiday week altogether. Then, you'll be able to take advantage of deals that are available in December.
If you're looking for a city break on a budget, consider a country that is relatively unknown, such as Lithuania. The newly-admitted member of the European Union has increased its tourism, and its capital Vilnius is an excellent representation of the country's rich history. Vilnius is also the cheapest city break in Europe, with a one-night stay costing just $114 per person. Vilnius is especially attractive during the winter, with daily temperatures dropping to zero.
A trip to Mexico's Cabo San Lucas is another great option for a budget vacation. Early December hotel room rates here fall to $230 a night, which is cheaper than the average price for a flight in June. During the first two weeks of December, you can get tickets for as low as $163 and find a one-night stay for only $187. This will save you hundreds of dollars.
Cambodia is another affordable option. The country has warm, dry weather throughout the month, and December rates in Cambodia are quite low compared to the neighboring countries of Thailand and Sri Lanka. If you're a city-goer, the capital Phnom Penh offers cheap accommodations and affordable access to the Angkor Complex. If you're looking for a more exotic destination, Thailand is also a good choice.
Despite its relatively cool weather, December in the San Francisco Bay Area is a great time for a vacation. You'll have less humidity, but still enjoy tropical weather, lush jungles, and inviting turquoise waters. The lead-up to Christmas brings the best deals in the area. Hotels are priced at half their regular rates, and airfare is even cheaper if booked early. If you're willing to drive a bit, this could be the right time for you.
Another excellent option for a budget holiday in Prague. The city is famous for its baroque architecture, old-world charm, and quaint bridges. In December, the entire city turns into a Winter Wonderland with illuminated streets and festive euphoria. If you're traveling during this time of year, December is an excellent time to explore Eastern Europe on a budget.